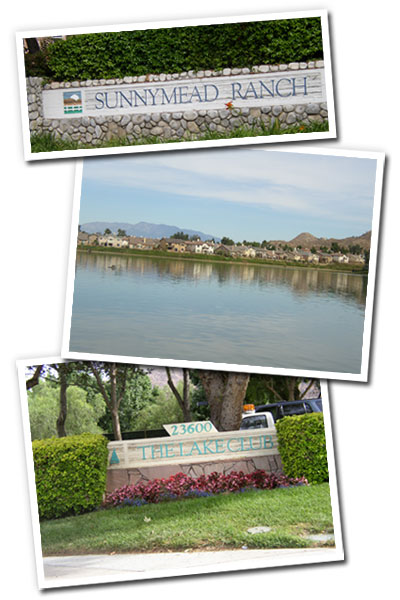 Sunnymead Ranch Homes
Sunnymead Ranch, a popular neighborhood and home owner association, located on the Northside of Moreno Valley. In Sunnymead ranch, there are 1000's of homes, some which are located right on the lake, at the Sunnymead Ranch lake, also known as The Lake Club. As a homeowner in the Sunnymead Ranch area, you have access to the lake along with other popular amantities at The Lake Club, including a gym, pool, park, club house and more.
The lake is a great place to hang out, during all times of the season. During the summer you can take out a paddle boat and during other times you can even go fishing. If you are lucky enough to live in a home on the lake, your backyard would have direct access to the lake.
In addition, because it is a home owners association, the Sunnymead Ranch neighborhood remains attractive. As a result, the homes in the area have risen in value making Sunnymead Ranch a great place to purchase your next home.
If you are looking to purchase or sell real estate in the Sunnymead Ranch area, please contact real estate agent and Realtor®, Leslie Trujillo of Keller Williams Realty. You can search homes in Moreno Valley and the Sunnymead Ranch area using the Home Search.
If you would like Leslie to put together a list of homes for you, located specifically in the Sunnymead Ranch area, or lake front homes in Sunnymead Ranch, please complete the VIP Home Request.