Sunnymead Blvd. Re-Development Project
The City of Moreno Valley will begin a $12 million "make-over" of Sunnymead Blvd. starting late 2007. There will be beautification improvements along the two-mile stretch from Frederick St. to Perris Blvd.
The city will complete the project in sections, starting with Frederick St. to Graham St.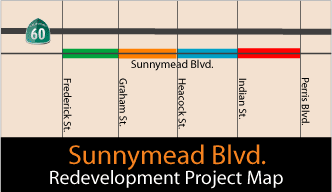 Courtesy: City of Moreno Valley Website
The improvements will include new six-foot wide colored sidewalks, over 200 palm trees, planters, monument signs, colored concrete at intersections and crosswalks, an arch at the Frederick St. entrance to Sunnymead Blvd. and more. The changes are meant to give it a "downtown" look and revitalize the area.


Courtesy: City of Moreno Valley Website